At first glance, Talmassons is an unremarkable village in the "bassa" Friuli, the flat lands south of Udine that lead to the coast between Trieste and Venice. None of the villages in that area has any particularly striking characteristics in the way that, say, to the north of Udine or in other regions of Italy you would find a picturesque hill-top "village perché", the stuff of tourist brochures. It has a centre of sorts and is pleasant enough. It's also very prosperous now, with large farms stretching for miles out of town, and the hugest tractors you've ever seen.

However, Talmassons is anything but unremarkable. Its people - or those I know - hold startling values, care enormously for their culture and environment, and display huge generosity. I stumbled upon it because it was the first place I worked in Italy.

I arrived in Udine on a Saturday night in late November 1975. On the following Tuesday evening, I was teaching in Talmassons. Terry, the director of the Udine school, drove me down to meet the class and start the first session. I'd had no training in the materials I was to present, the most basic of the starkly named British Rapid Method, a selection of large flash cards and red-and-white student text books. I didn't speak Italian. I was really nervous. The class was held in a large cream-washed hall in the primary school, twenty adult students seated at traditional benches. Terry introduced me and left. Two hours lay ahead, showing pictures, encouraging Italian villagers with no English to repeat basic phrases after me.

They were just sweet with me. Of course, they were both shy and apprehensive, emotions that I failed to recognise in my self-centred debutant turmoil. Amidst their peers some were determined to do well, others could only apologise for their linguistic shortcomings. I later found out that there were three or four primary school teachers, a factory handyman, some shopkeepers, a male nurse and a railway station assistant. Learning English was the first clue to the special interest these villagers took in the outside world, as well as in their own culture. They all belonged to the "Circolo Culturale", a group that met to share their enthusiasms for the arts and their passion for the region. The English class was one of their new ventures, another expansion of their horizon.

At the back of the class sat a man called Carletto, whose dramatic gestures and facial contortions spoke large of his incomprehension. He was slim and dark, with a smile that lit up the room. Whenever I asked him a question, he would writhe in his chair, cross his legs, hold his head in both hands and stare in wide-eyed supplication at me as he tried to answer. When I demonstrated the response I wanted, he would slap his forehead and explode with some local imprecation as if to say, "Of course, I was nearly there!" He didn't keep up his attendance very long, but he did become a very close friend. We still telephone each other every year on Christmas Day and on our birthdays.

That first evening, he drove me back to Udine in his tiny white Fiat 500. We went the "country" way, on narrow roads between the flat maize fields, through late-November-chilled half-lit villages. Although it was dark and late - the lesson had finished at 10pm - Carletto stopped the car frequently to show me things. At the first church, he pulled over, pointed at it and said loudly, "Chiesa. CHI-E-SA!" I dutifully repeated the word, already beginning to laugh at this rapid change of roles. We came to a shuddering halt when a stray dog crossed the road. "Cane. CA-NE!" At the junction with the main Udine-Lignano road, we stopped at the traffic lights to learn "Semaforo. SE-MA-FO-RO!" The lights had changed twice before I'd got it right, and several cars had edged past us, the drivers peering into this car that was blocking their way, Carletto waving his arms wildly at me as if in a rage.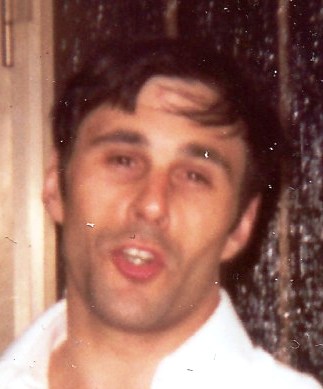 I taught in Talmassons every Tuesday and Thursday evening that year, through to the academic close of June 1976. The class ran from 8pm until 10pm, and then I would go for a late supper to Carletto's house. This was made possible by Terry, the school director, lending me his Renault 4, so I could return to Udine under my own steam; I'd take the car back to him the following morning.

Carletto and his family lived in a two-storey cottage down a dust track running at right-angles to one of the roads leading out of Talmassons towards Udine. It was a plain-fronted traditional house with cream-washed walls and wooden shutters over the windows, set back in a small gravelled courtyard off the track. As you stood in the courtyard looking at the house, the main door was slightly to the left of the centre of the whole building. At the right-hand end was a small grain and wood store, where the rabbits were also kept. On either side of the house were similar homes, and opposite was the kitchen garden and then a maize field.

I ate a lot of rabbits that year. They were a favourite dish of Mama Carol, Carletto's delightful mother, who lived with them. She was a tall, sturdy, imposing woman of about 60, with hair usually pulled back into a bun. Her clothing had a traditional feel, with simple blouses and aprons. The kitchen garden and rabbits were her preserve, and I remember her most either kneeling between the rows of plants in the late spring, or in winter at the wood-burning stove in the corner of the kitchen preparing the most commonly-served meal - braised rabbit in garlic and wine, served with steamed potatoes and a crisp green salad.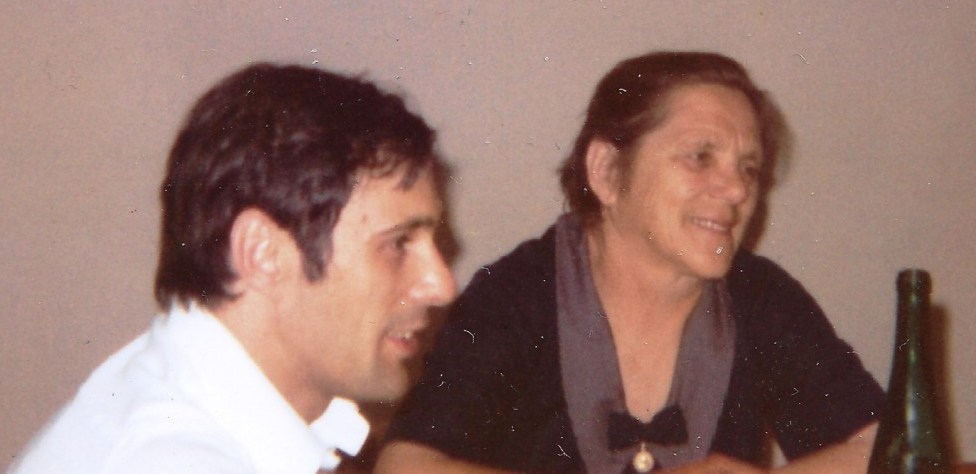 You entered the kitchen from just inside the main door, turning to your right immediately out of the hall. I spent all my time at the house in this room; I don't think I ever went into another except for the toilet upstairs. As you went in, on the right was the front outside wall, with two windows looking out over the courtyard. On your left was the table, in the narrow front part of the room, with two sides bordered by wooden benches. Against the far wall was a big wooden dresser housing plates and glasses. You turned left in front of this to get to the back of the kitchen, to the stove and sink.

I usually sat on one of the table benches while members of the family joined me, or brought me food, or talked as they went about their domestic tasks. If we were returning from class during winter, I'd come in with Carletto and Bianca, his wife - she also attended the lesson. Carletto would find water and wine while Bianca helped Mama Carol finish the food preparation. Bianca's mother would sometimes be sitting on a plain chair against the wall between the two windows. She was a quiet contrast to Mama Carol, as retiring as Carol was larger-than-life and room-filling. She would look at me silently, a smile playing on her lips, occasionally whispering, "Ah, si!"

Carletto's daughter, Lucia, might still be up. When I first visited she was just five years old, tall for her age, with a beaming, inquisitive round face. She was unequivocally the pride and joy of the family. Both parents always spoke to her seriously and deeply, without losing their playfulness. Issues were discussed, meaning teased out of events, the world explained. It was consistent with the way they spoke to me. While conversations were never heavy, they were also rarely trivial. They delighted in exploring all that was interesting in their culture and mine, making connections.

I made other great friends in Talmassons. Some were students at the English class, others friends and relatives of friends. Ermanno and his wife Chiara were very close to Carletto and Bianca, fellow travellers in the great quest for the world beyond (and within, as became clear with time). I first met them at the English class, apparently shy, inexpressive people. They struggled with the English language, and never pushed themselves forward. I didn't feel impelled to judge all these people - how could I with the welcome they gave me?

Ermanno moved with muscular intent, not exactly rushing, but always at a brisk, purposeful, balanced pace. A practical man, with huge artisan hands, he wanted to show me things to demonstrate a point. "Charlie, come, come, look, look", and we'd set off at speed with me trailing behind to some corner of his workshop (he was the caretaker and handyman at a factory) or to see some wild flowers in a distant field. When he explained things to me, he would draw close, hold my arm, prepare himself for speaking, with several intakes of breath and a lick of the lips, then launch into his observation, perhaps about the changing landscape of the "bassa" Friuli wetlands, or the history of one of the nearby villas.

Carlo and Ermanno were very close, gripped by a similar passion and curiosity. They were both completely without "side", natural, fiercely boyish, almost to the extent that they could have got up other people's noses. They shared with me the love of their homeland, taking me on short excursions out of the village, ignoring my concern if my visit was intended to be only brief. Talmassons is surrounded by flat, rich agricultural land. Take any minor road out of it past the farmers' large houses, and the asphalt road surface turns to whitish gravel. These broad tracks, bordered by grass banks leading down to deep irrigation ditches, wind through fields of head-high maize in summer.


One summer Sunday, the villagers organised a day of celebration out in these fields. Celebration? Not for anything in particular, just an expression of fun. I went down from Udine, arriving in mid-morning at the central square. It was clearly going to be a traditional affair. My friends were loading up two donkey carts full of cooking equipment and locally-produced food: pork chops and sausages, chicken, cuts of beef, fresh vegetables and salad. We then jumped on the carts and drove out of the village, along the dusty roads until we came to a meadow alongside one of the irrigation ditches. The villagers set up large homemade barbecues, prepared the food and served it on long trestle tables, accompanied by sharp young wines they had grown themselves. There must have been 60 people there of all ages. It was very hot, and the young ones - some not so young - plunged into the neighbouring water to cool off.

As I said earlier, I've kept in touch with Carlo and his family ever since those days, a distance now of 42 years. Just after we moved from London to Gloucestershire in 1989, Lucia came to stay with us in our new Minchinhampton home for several weeks. Much later, in 2005, she organised a weekend student trip from Friuli to London, and as a treat brought Carlo and Bianca along to see me, Bianca's first trip to England, indeed out of Italy. I drove down to Gatwick after lunch on the Friday to meet them all. What a reunion, so out of context. I'd spent all those years going down to Talmassons to see them, on their home ground, and now they were here in England, on mine. Lucia hustled her students off to the train, and I was left alone with her parents. As we walked to the car, Bianca said, "Charlie, I've never seen London, can we go there?"

Could there have been any answer other than "Yes"? We set off on the least direct route from Gatwick to Gloucestershire that I've ever taken.

We took a slow way into London, going up through Streatham, Brixton, Walworth, Bermondsey and over Tower Bridge to Aldgate. They were immediately interested and animated, in the Victorian architecture of the villas and high streets of the southern suburbs, the variety and number of people on the streets in Brixton. I took them to see where in the early 1970s I had driven a van for Paradise Ltd., fur and leather garment manufacturers, in Buckle Street off the big Aldgate East roundabout. Then we went further down the Commercial Road into Stepney, to the squat in Matlock Street where I had lived, now brightly gentrified. We swung south into the converted warehouses of Limehouse, stopping at The Grapes in Narrow Street for a drink. Then to the massive developments of Docklands and Canary Wharf.

It was a long way from Talmassons, but the conversation had the same flavour and intensity. Way back in that first year I spent with them, the subject matter was never trivial, everyday mundane, despite my early lack of Italian. Carlo was always trying to get to the heart of things, political, cultural and mostly about the human condition. You could see why he and the others had founded the "Circolo Culturale". They had inexhaustible desire to find out, to learn and make sense of the world.

So it was as we made our way round London. Questions, observations, making comparisons, extracting understanding from what they saw. It even made what I knew about the history, people and culture of the area come alive to me. Most of it would normally lie dormant, but they demanded that I reveal what I could. An unusual but fulfilling experience.

As the afternoon wore on, we turned west through the City, pausing at St. Paul's. There was nowhere to park, so I stayed with the car while they went inside. They came back 20 minutes later full of interest and excitement, full of comments about the diversity of architecture. Off we went again, along Fleet Street, the Strand and into Trafalgar Square. Through Admiralty Arch into the Mall, past Buckingham Palace and on into Knightsbridge. I could not resist engineering a discussion about migration into Britain and how much of it had involved retail, particularly Asian families running corner shops. Just so that I could present them with the most glamorous example - Harrods, at that time owned by Mohamed Al-Fayed.

So, that was Bianca's afternoon in London. It was time to head for Gloucestershire. I would normally have carried on down the Cromwell Road to the M4. Instead, I thought we should take a look at Oxford on the way, so we went up the M40 and into the centre. I parked just off the High in Oriel Square, and sent Carletto and Bianca into the college to feel the atmosphere. They loved it.

As dusk approached, we set off for Nailsworth. We crossed the Cotswolds from Burford to Cirencester. There was nobody else on the road, and Bianca was struck by the absence of petrol stations. We made good time, too fast for Bianca I fear, but still arrived at our house after nine. Sarah had made a real spread of Italian antipasti, which Carlo augmented by pulling two huge homemade Talmassons salami out of his bag, plus two bottles of red wine that they had bought in Oxford, sneaking into an off-licence when I wasn't looking.

On Saturday I took them on a tour of my favourite places. My daughter Ellie and granddaughter Lola came along.

First up was the viewing point at Coaley Peak near Nympsfield, where the Cotswold escarpment drops off to the Severn plain. Carletto observed that the flat landscape seen from above was much more as he imagined the English countryside: green fields bordered by hedgerows, hamlets of red-brick cottages, chunks of deciduous woodland, the broad river in the distance winding to its estuary, the Forest of Dean beyond.

Then off to Tetbury, that fine example of a classic Cotswold town. As Bianca walked with some difficulty, afflicted by deteriorating knees, Carletto - with permission - repeatedly dashed off into nooks and crannies, the parish church, the courtyard of a coaching inn, always returning with an interpretation or question.

We came back via Cherington pond, near Minchinhampton. It's an enchanting spot, a dark little lake populated with carp, ducks with their young, the surrounding wooded hills thick with spring flowers, later with wild garlic. They loved it.

The next day, Sunday, I took them up the Horsley valley from Ruskin Mill college. The mill, the headquarters of a "specialist provider for learners with complex needs", has a lovely pond in front of it, then a verdant and varied valley follows the stream uphill, finishing with a trout farm (organic, of course) at the top. The valley is flanked by two steep slopes, one thickly wooded. Carletto stopped at one point and started making bird noises towards the trees on the opposite hillside. The birds answered back! He said that he often did this at the end of their lane in Talmassons.

Their visit was sadly brief. On the Monday, I drove them back to Gatwick, taking a lunch diversion to Avebury to show them the stone circle.

We've spoken every Christmas and birthday since.

On 6th May 2016, the anniversary of the earthquake in Friuli (see section on "Terremoto"), Lucia sent me this email:



"Buongiorno dal Friuli.

Dad this morning tried to call you, just to say "Grazie!" He would like you to know that we've never forgotten the exceptional things you did 40 years ago, when the earthquake nearly destroyed our beloved land. He and Mum do remember any single penny collected and donated, any single effort done to ease the pain. I remember the way you tried to distract me and to let me live my childhood without being too much influenced by the fear and despair surrounding me. I'm sure you clearly remember those days, too.

For Dad the friendship that in those difficult days grew even stronger never failed. You are still in our hearts with the same deep love and affection. Should you have the chance to get in touch with any of the English boys and girls that together with you helped us in 1976, please thank each of them on our behalf.

Un fortissimo abbraccio dall'Italia,

Lucia, Carlo e Bianca."



Wow. I passed on the thanks to Sue, Chris and Charles. We did try to help, although I remember more the generosity the Friulani showed to us.

In May 2019, we had a visit from the Beltrame family here in Stroud. Lucia, with husband Stefano and their daughter Chiara, delivered Carletto and Bianca. Lucia had taken them all to Stonehenge and was going straight on to London with a brief detour to the Harry Potter museum in Watford. They didn't arrive empty-handed. We had the most delicious high tea of homemade Talmassons salame (just sensational, nothing like what you might find on the supermarket slab) and cheese, accompanied by a "taillut" of Merlot, then a quick evening tour of Coaley Peak, looking down over the Severn plain, the Kingscote valley and finally Beverstone castle and church.

We had four special days. There's nothing like showing dear friends your favourite places, enhanced through their eyes. I'm not going to do a roll-call of the sights, but stick to the qualities of Carletto and Bianca that impressed me and Sarah. A word of credit to her. She had to deal with non-stop Italian as they speak next to no English. A burden, I felt, but borne lightly; she's a natural linguist and used her Spanish in mediation. One evening as I was cooking, she invited Bianca to give her an Italian grammar lesson. Stunning idea. Sarah adores grammar. Bianca loves talking about her homeland and language. I listened with amusement from the kitchen as they worked through the most common verb forms. Not - I hear you say - the usual source of pre-dinner entertainment. Typical of the Beltrames.

The first quality that struck (or re-struck, because it was always thus) me was their curiosity. It's an old habit. Further up this piece I talk about how the family would discuss things in a way that was never trivial, trying to extract the maximum meaning and understanding. Everywhere we went they had a hundred questions. They will always look at an object or a place and try out a theory of their own. Down at Arlingham Passage on the River Severn, Carletto suggested how the river traffic had probably changed over centuries, what produce and people the old ferry had once carried. He had his own interpretation of how the Christianity of the church of St. Mary in Beverstone resembled or differed from that of his church in Talmassons; he hunted down evidence in stained-glass windows and tomb inscriptions, in the large altar bible.

They are very generous. I managed to resist Carletto's insistence on paying for everything, on reimbursing me for every shop purchase, but I swear I had more cash at the end of their stay than at the beginning. Their generosity goes way beyond the material. I'm struggling to find the right word; it's something like affirmation. They see the good in people. Magically, after an extended period in their company, I feel like a better person. We had our 5-year-old grandson Marlie with us for most of the visit. They engaged him, joined in his games. Carletto demanded that he buy Marlie a new Lego kit.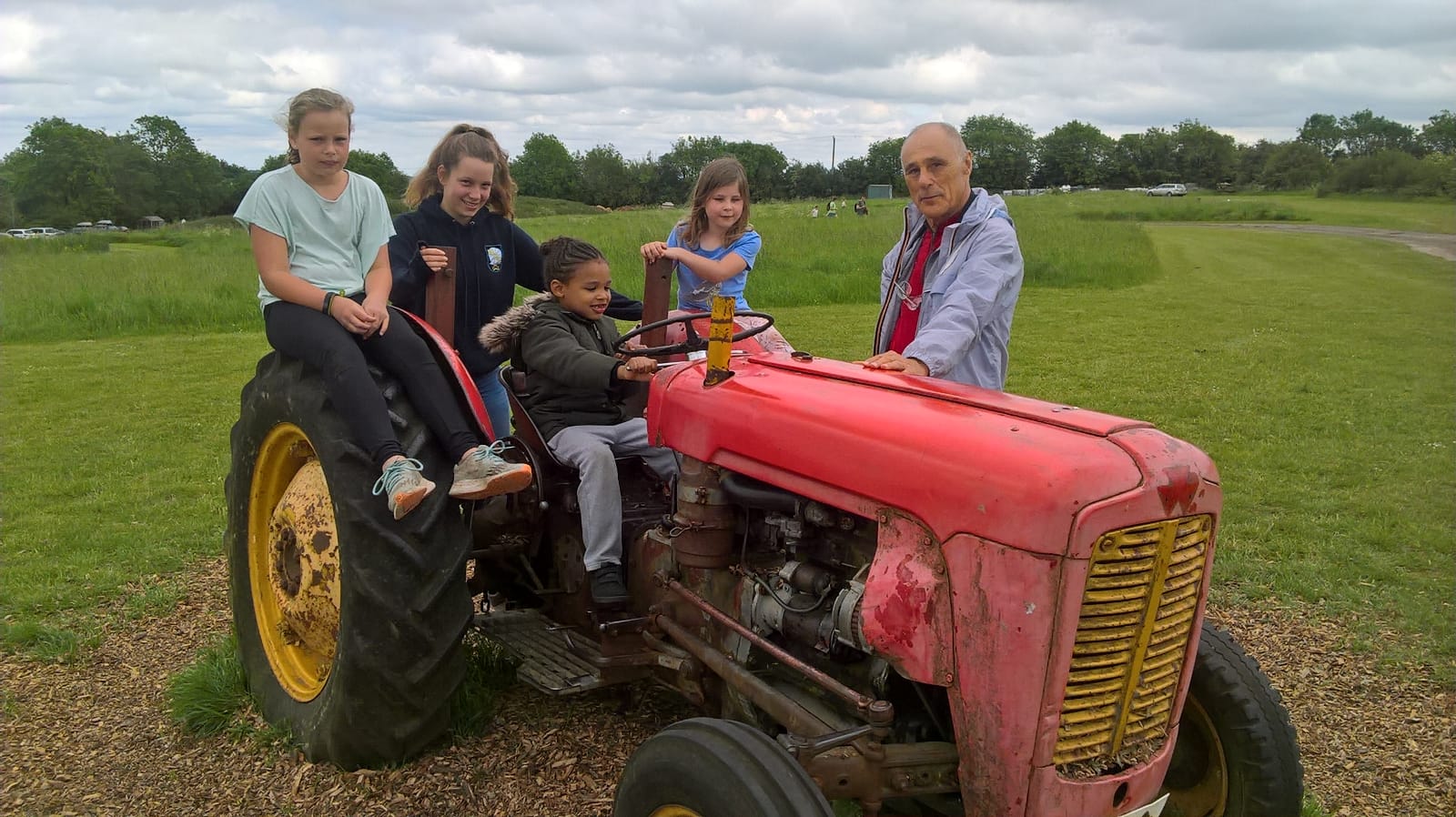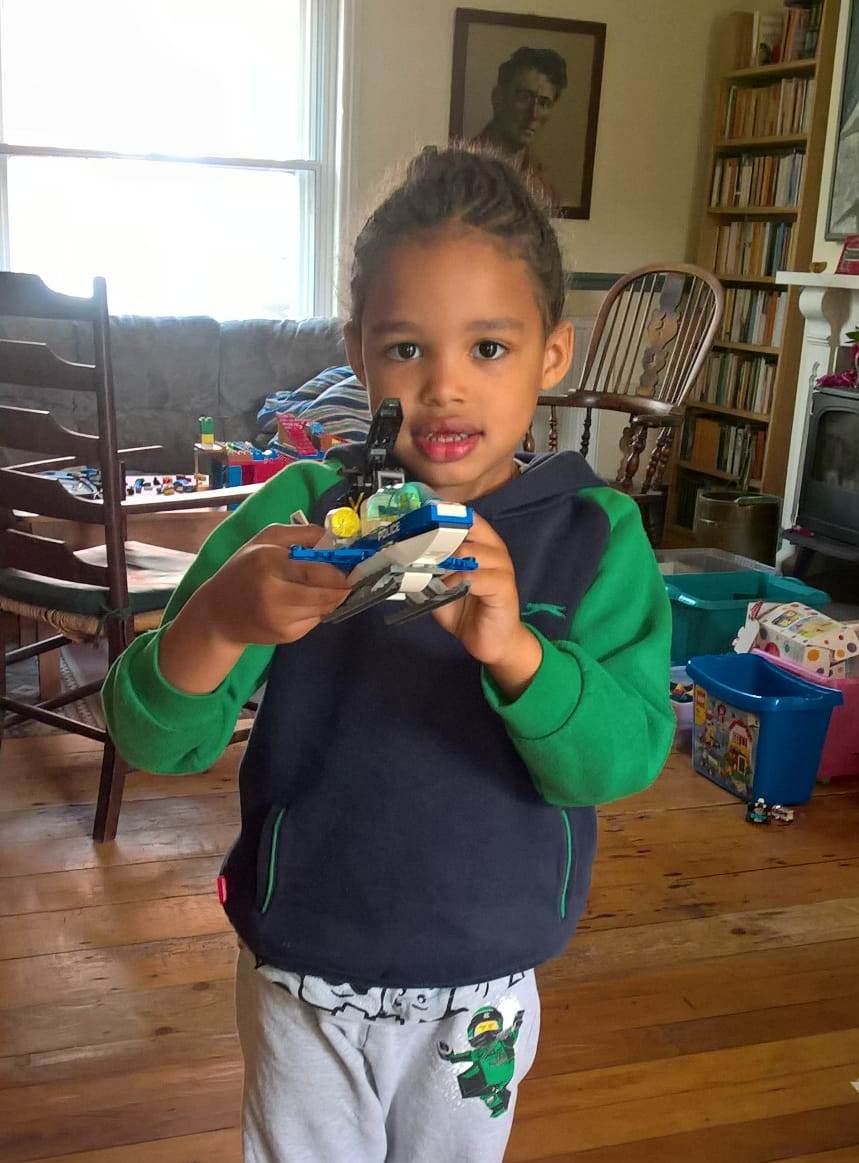 They are great communicators, Carletto dramatically so, Bianca more reserved. Marlie brought his new Lego toy to the dining table where Bianca was sitting. For half-an-hour - remember, no shared language - he showed off its features and functions. Bianca acknowledged everything he demonstrated, asked questions, showed delight.

We all went down to the Stroud Farmers Market on Saturday morning. After a tour, we bought coffee at Woodruffs (21 years an organic café) on the High Street. I spotted John Marjoram, our legendary Green councillor and many-times mayor, and felt I should introduce Carletto to him. Leaving Bianca and her dodgy knees sat comfortably outside Woodruffs (no hardship, as it's great for people-watching, which Bianca loves) we went down to see John. Within minutes they were embracing and talking at (sic!) one another. I translated some of the conversation, but mostly it didn't seem to matter. Then we met the woman in charge of the colourful "Bollocks To Brexit" stall. Same instant rapport. When we left five minutes later, she and Carletto kissed and hugged like parting lovers.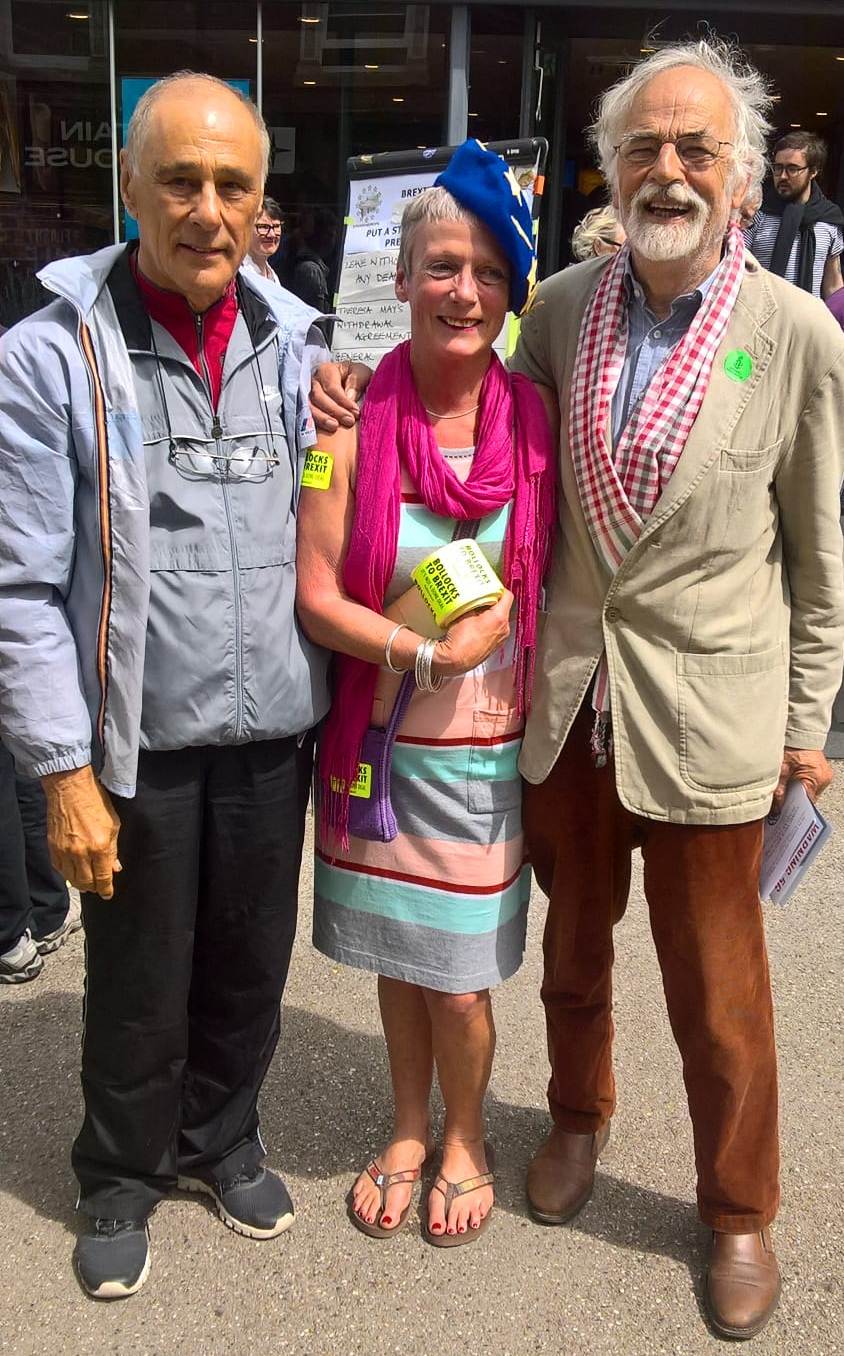 We took them for Sunday lunch to the Red Lion at Arlingham. Carletto went up to Holy Trinity church in the morning, returning 45 minutes later than planned. He'd been invited to stay for coffee with the other churchgoers. He met - and "talked to" - everybody.

On Monday they caught the bus from Cirencester to London Victoria to meet up with Lucia and family, thence to Gatwick, where sadly they spent 24 hours as the flight was cancelled. Since getting home, Carletto has regularly sent me photos of his beloved "bassa" Friuli. Such a contrast with our Cotswold hills and valleys.