Venice is not Friulan. It's not even part of the greater region of Friuli Venezia Guilia, despite the name; the capital is Trieste (see "Return" and "Trieste" sections). The Friulani have an ambiguous relationship with the city. They recognise and treasure it as a jewel, yet often judge it as they do Rome, lacking the honest virtues. Many place the western border of genuine Friuli at the "Tilimint" or river Tagliamento, which division excludes even the province of Pordenone. As the city is outside Friuli, I feel a half-need to justify its inclusion in this memoir. It was a part of our life in Udine. The headquarters of the Oxford School Group was there, home to the owner Richard Creese-Parsons and to our great friends Gowan and Fran. We visited often for work and pleasure. There's no disputing the wide influence of the Venetian Republic, or "Serenissima", which extended far down into the former Yugoslavia. It's most visible in the architecture, in towns like Rovinj (Rovigno) and Piran (Pirano), to name two that I have visited.

Like the "Food" section is not a recipe book, this is not a tourist guide, nor a celebration of the rich history and culture. It's my take on the city's impact on me. Venice IS different. There's nowhere quite like it. Although I had of course seen photographs, my first sighting brought surprise and delight. You can't quite believe what's in front of you.

In my view, there's only one way to arrive in Venice. A water-taxi from Marco Polo airport is very good, although it will cost you. Disembarking from your cruise ship on the Riva degli Schiavoni just down from Piazza San Marco would have its merits. [See a separate mention in 2021 of the controversial ships in my daily 'Climate Blog', at that time 'Coronavirus Blog'

]. Driving across the causeway from the mainland and parking in the multi-storey at Piazzale Roma doesn't work. No, you must arrive by train, which also crosses the causeway, at the terminus station of Santa Lucia. The station itself is one of the few modern buildings facing the grand canal, finally completed in 1952, but that is not of significance to the experience. One moment you're in a typical Italian station. Then you go out through the front doors and you're in a different world.





You've left the motor-car behind. Water has replaced tarmac as the transport surface. In the first picture, there's a "vaporetto" or water-bus stop right there. In the second, yes, it's ... the Grand Canal. The main artery of Venice.

The vaporetto of choice is the number 1. It's the "stopping" bus calling at all points on the canal, left and right, then out to the Lido. In 1975, it was slightly larger than the others, with an outdoor seating area that allowed you to take in the full grandeur of the buildings facing the water.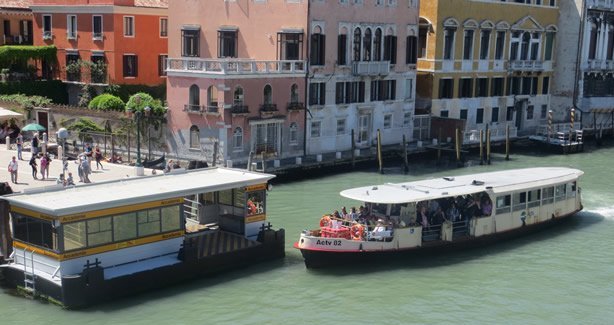 Here's a route map courtesy of Visit Venice Italy, a site worthy of a look.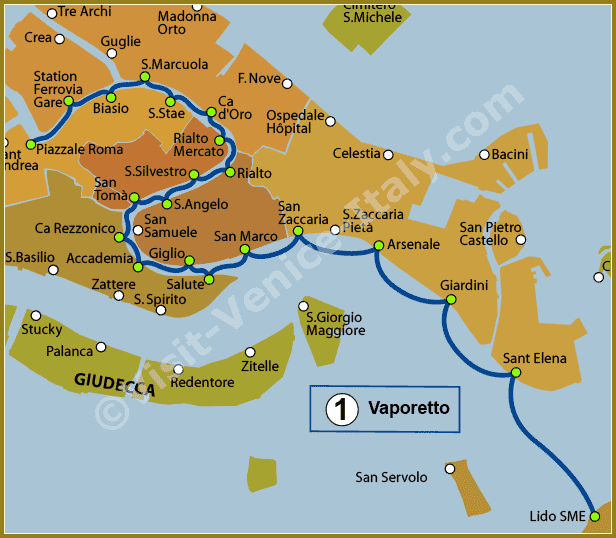 I made my inaugural visit that winter of 1975/6. Train down from Udine and the astonishing revelation on emerging from Santa Lucia. I feel lucky that it wasn't the tourist season. I arrived just after dark. It was bitterly cold and foggy. The vaporetti were sounding their horns. Waiting at a stop, I could hear their engines before I could see them. Street lights in the narrow "calli" glowed dimly through the murk. Very few people. Straight out of Nicholas Roeg's film "Don't Look Now", recently released in 1973. Mysterious, dangerous, atmospheric. If you know the film, I expected to see a child in a red raincoat round every corner.

Early in 1976 I witnessed my first Carnevale. The festival is said to have originated to celebrate a victory of the Venetian Republic against the Patriarch of Aquileia in 1162. Young people carry bags of flour to throw over one another. I remember Piazza San Marco white with it, almost as if snow had fallen.

Then there are the masks. Traditionally they could be worn between "Santo Stefano" (St. Stephen's Day, December 26) and midnight on Shrove Tuesday. The disguises allowed wearers to escape the rigid shackles of class and profession. "Mascherari" (maskmakers) enjoyed a special position in society with their own laws and guild.

The masks are quite scary. There's menace in obscuring true self. What does it say about Venetian society? Where people are not what they seem.

There are several classic masks, so iconic and dramatic that they deserve some space here.

The "Bauta" is full-face, the shape of the chin allowing the wearer to talk, eat and drink without removal, preserving anonymity. It is often accompanied by a red or black cape and a tricorn hat.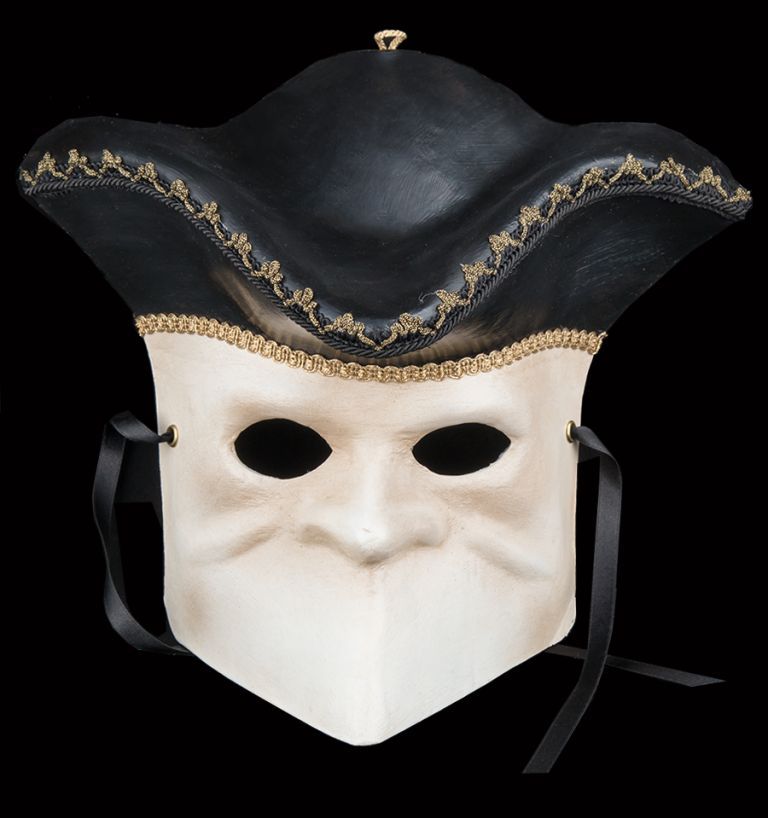 "Colombina" is a half-mask, only covering the wearer's eyes, nose, and upper cheeks. It is named after a stock character in the "Commedia dell'arte", the early form of professional theatre originating in Italy and popular throughout Europe.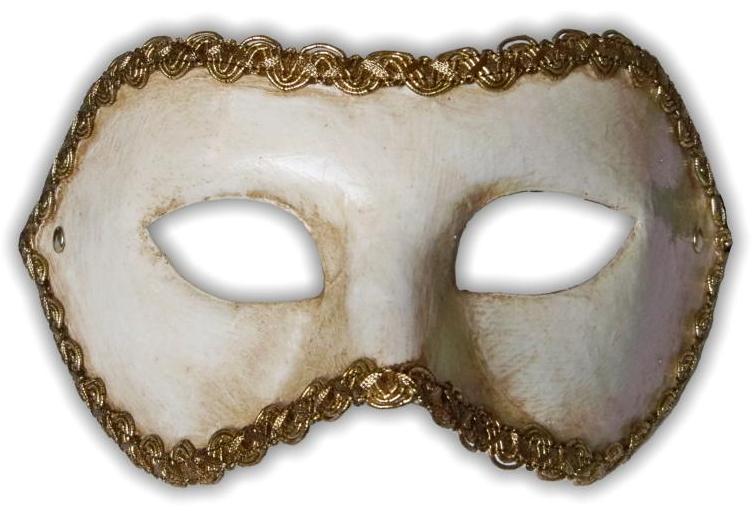 "Medico Della Peste" (the Plague Doctor) started out not as a carnival mask at all but as a method of preventing the spread of disease. The doctors wore a black hat and long black cloak as well as the mask, gloves and a staff.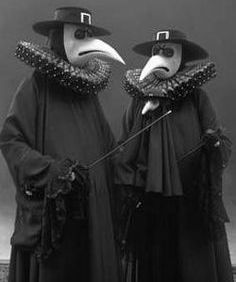 [I'm writing on Monday 24th February 2020. The Venetians really need this mask now. Carnevale has been closed two days early on account of the coronavirus spread in Northern Italy.]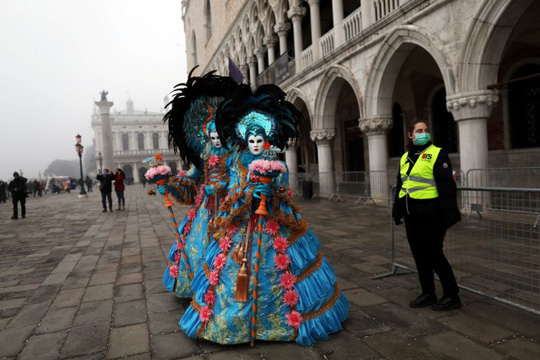 "Moretta" (dark one) or "Servetta Muta" (mute servant woman) is a small strapless black velvet oval mask with wide eyeholes and no lips or mouth, worn by patrician women. It is held in place by the wearer biting on a button or bit; the women wearing this mask are unable to speak, hence "muta". It may be worn with a veil.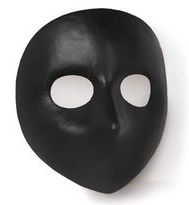 "Volto" (face) or "Larva" (ghost in Latin) is a modern Venetian mask. It is typically made of white porcelain or thick plastic, frequently gilded and decorated, commonly worn with a tricorn hat and cloak.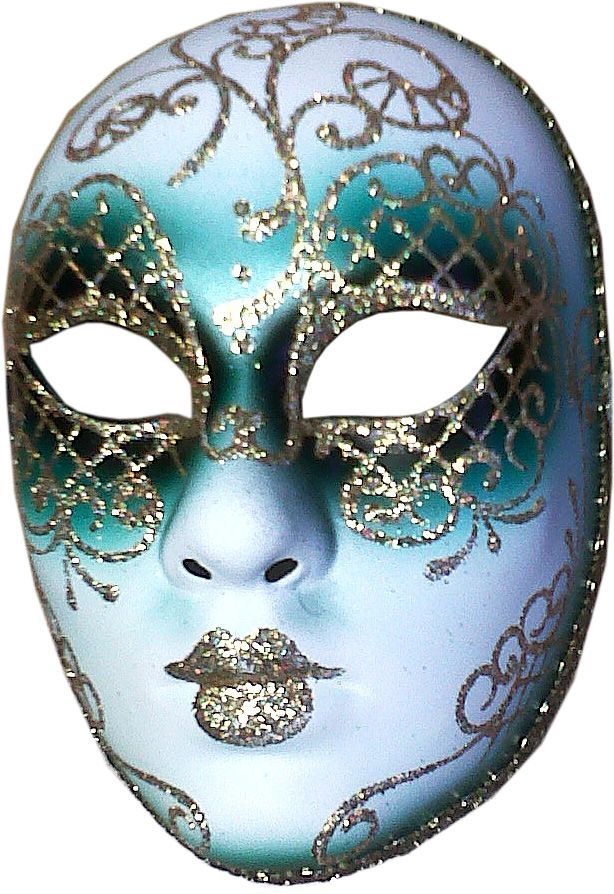 "Pantalone" (probably a contraction of "pianta il leone", or "he who plants the lion", the symbol of the Venetian republic) is another "Commedia" character. It is usually represented as a sad old man with an oversized beak-like nose, high brows and slanted eyes (meant to signify intelligence on the stage). The mask is almost exclusively worn by men.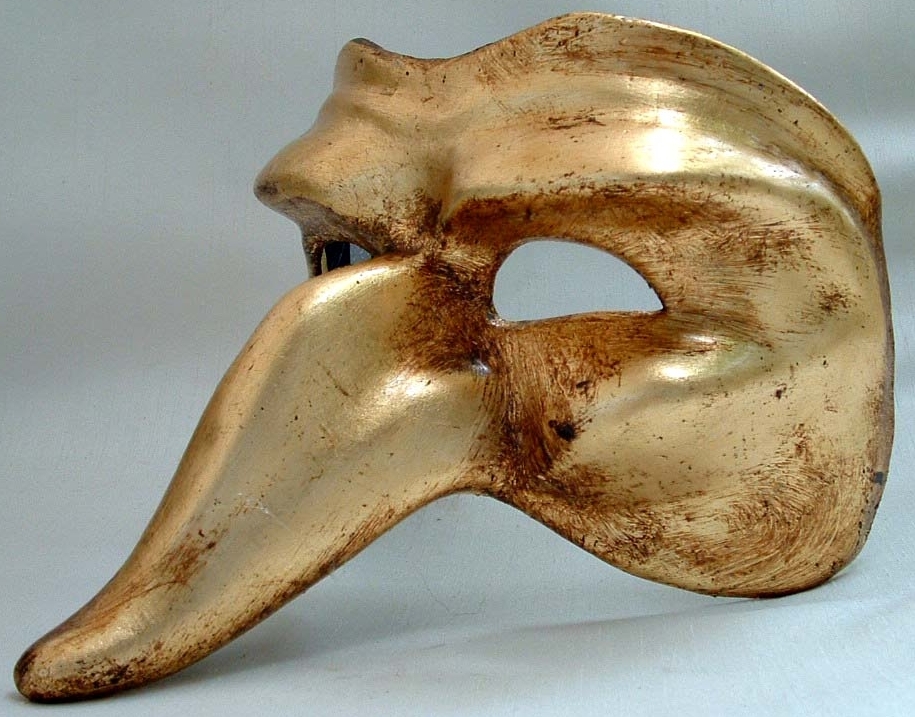 "Arlecchino" (harlequin) is also from the "Commedia". He is meant to be a kind of "noble savage", devoid of reason and full of emotion, a peasant, a servant, even a slave.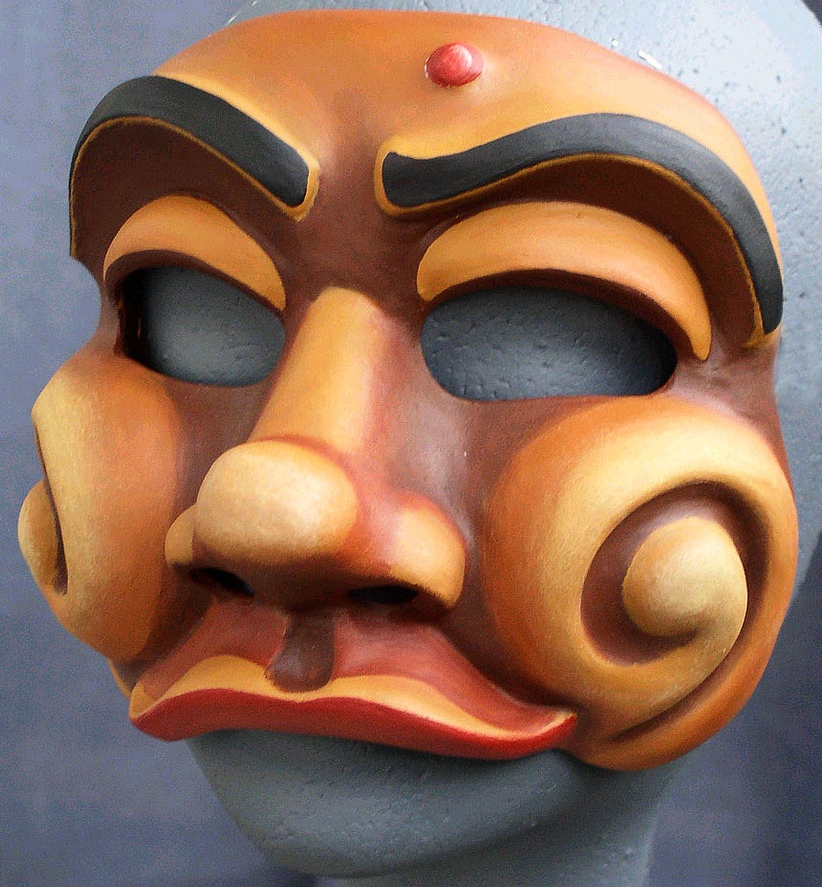 The masks are on sale everywhere, from street vendors and corner shops. They make a wonderful display.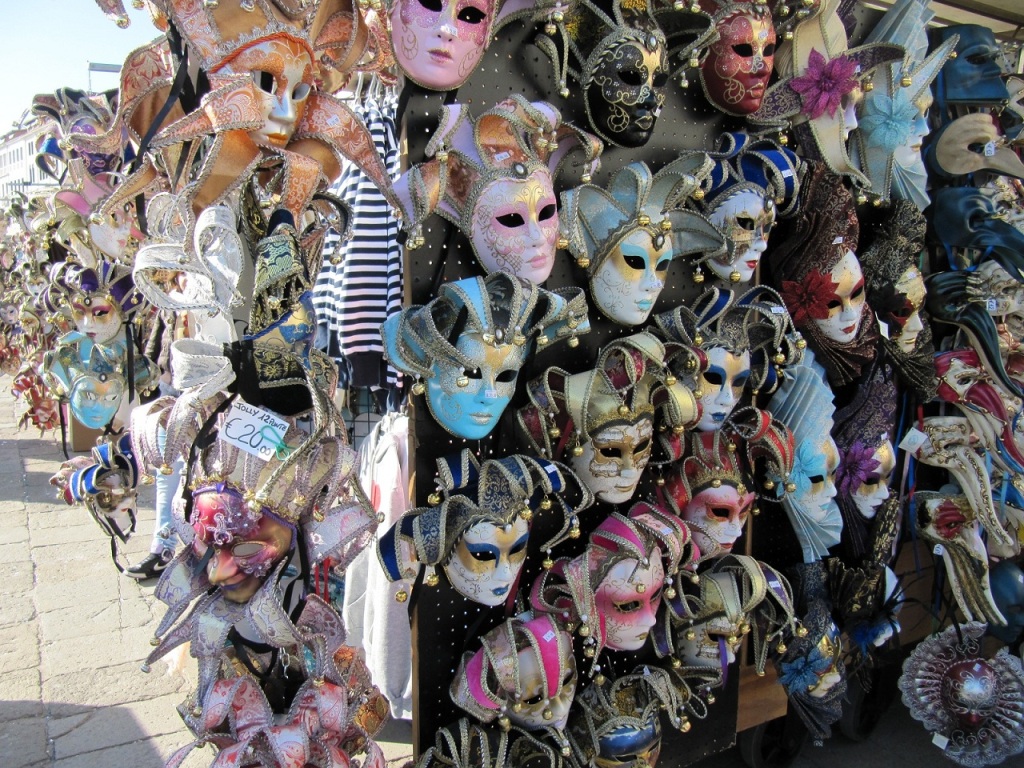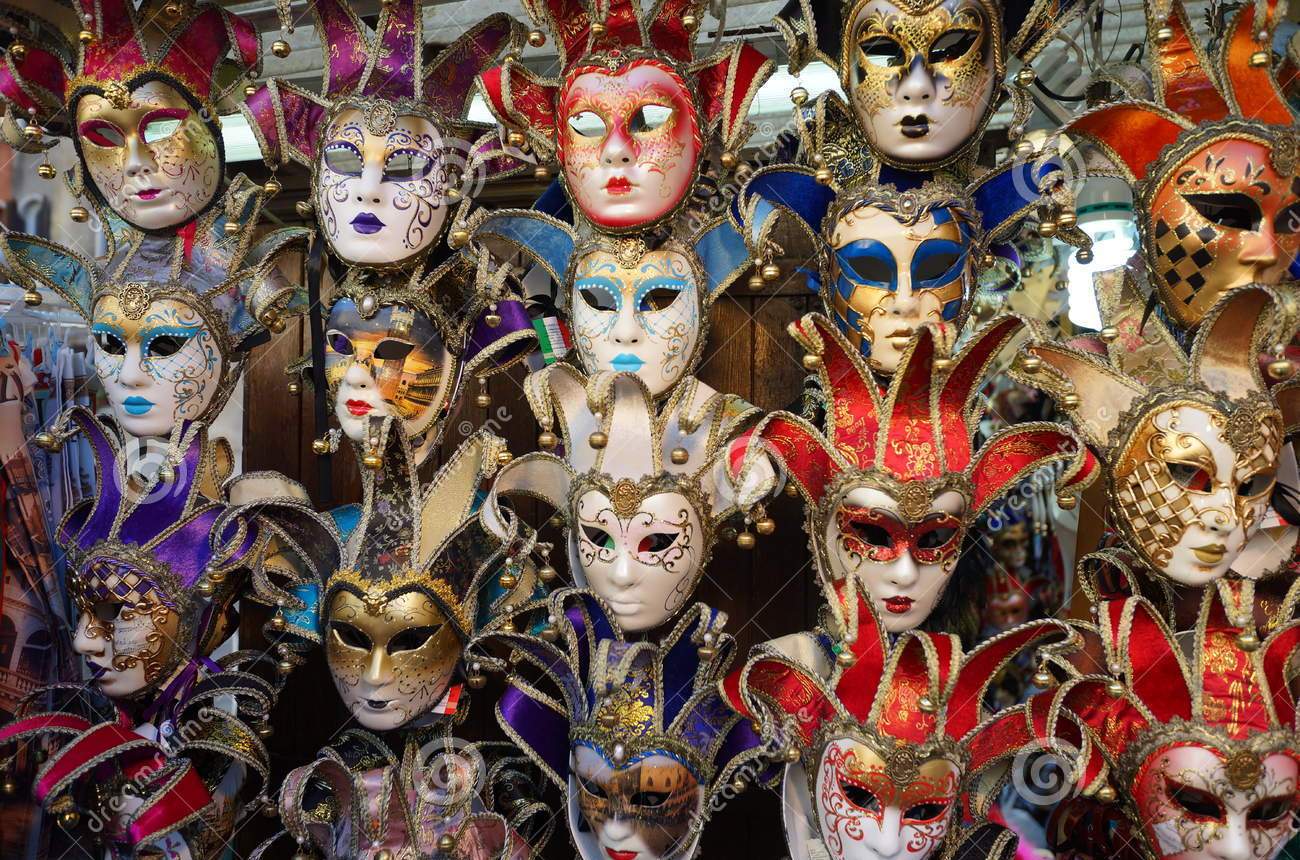 Around Easter 1976 (April 18th) my family and friends came to Venice. LAVABO - Lewis Annual Venice and Back Outing. Organised by the shady Flavio Nardini of WhyNot Travel. My friend Eddie made large round badges for the participants. They stayed in a modest hotel just off the Riva degli Schiavoni. We roamed around the sights. We ate good meals and drank some wine. A few members of the group took LSD. They could be seen for a whole day sitting rapt on the waterfront, gazing at lagoon and sky.

I clearly didn't know then that we were less than a month away from the Friuli earthquake. It makes me shiver to think of it.

I was dejected when the LAVABO party left. Charles and I devised a jolly jape to cheer me up. This involved two tasks to be carried out on our walk back to the railway station. The first was to give a 5 lire coin to passers-by in the street. The coin was then worth about one-third of an English penny. The second was to leave a message for Mr. Abdul Mohammed. The recipients of 5 lire reacted in different ways. Some accepted graciously. Others shrank away in horror. I managed to leave 5 lire and a message for Abdul in a small grocer's shop; the owner tucked the note between two tins of peas on the top shelf behind him. I went into the Danieli hotel, the grandest in Venice, and left 5 lire with the receptionist dressed in an immaculate white tunic with gold buttons up to the neck. He opened his guest register and declared that there were no fewer than four Abdul Mohammeds in residence. I beat a hasty retreat.

We arrived at Santa Lucia. I reckoned I was ahead on points. We had to wait for an Udine train. I read a book. There was an announcement over the tannoy: "Would Mr. Lewis please come to the stationmaster's office where Mr. Abdul Mohammed is waiting for him?" Game, set and match to Charles.

Back to the boats. The vaporetti are special. They are buses, but on the water. Everyday trips: on your way to work, shopping, visiting friends. Rides with enchanting views of the magnificence of Venice. I loved the way they docked at stops. The driver would sling the boat side-on to the pontoon, the "conductor" wrapped a rope round a bollard and threw open the metal gate to let you off.

After the number 1, a favourite is the number 12. It's a bigger craft leaving from the Fondamenta Nove on the opposite side of the city from San Marco. I'm a fan of both sea voyages and public transport, so this fits the bill. The boat heads out to islands of the lagoon. Here's a route map, again courtesy of Visit Venice Italy.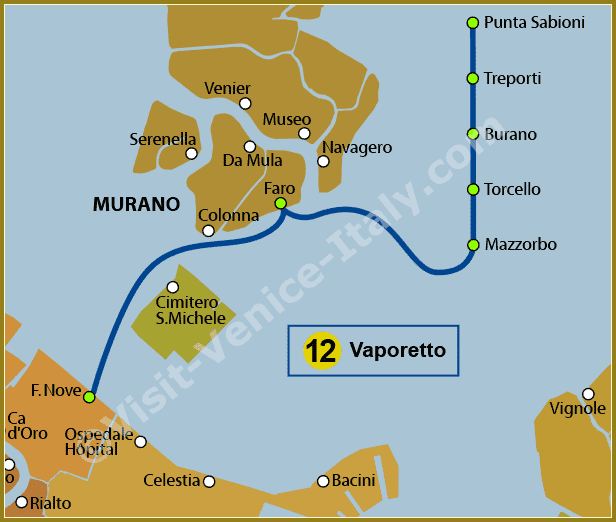 The first stop is Murano, famous for its glass. Sadly, production has been in decline. Foreign imitations and difficulty attracting young workers has caused the number of professional glassmakers in Murano to decrease from 6,000 in 1990 to fewer than 1,000 in 2012. Apart from glass, it's not a very interesting island.

Torcello is known for the "Basilica di Santa Maria Assunta" with its beautiful mosaics, particularly the west wall. There's a lovely walk from the vaporetto stop.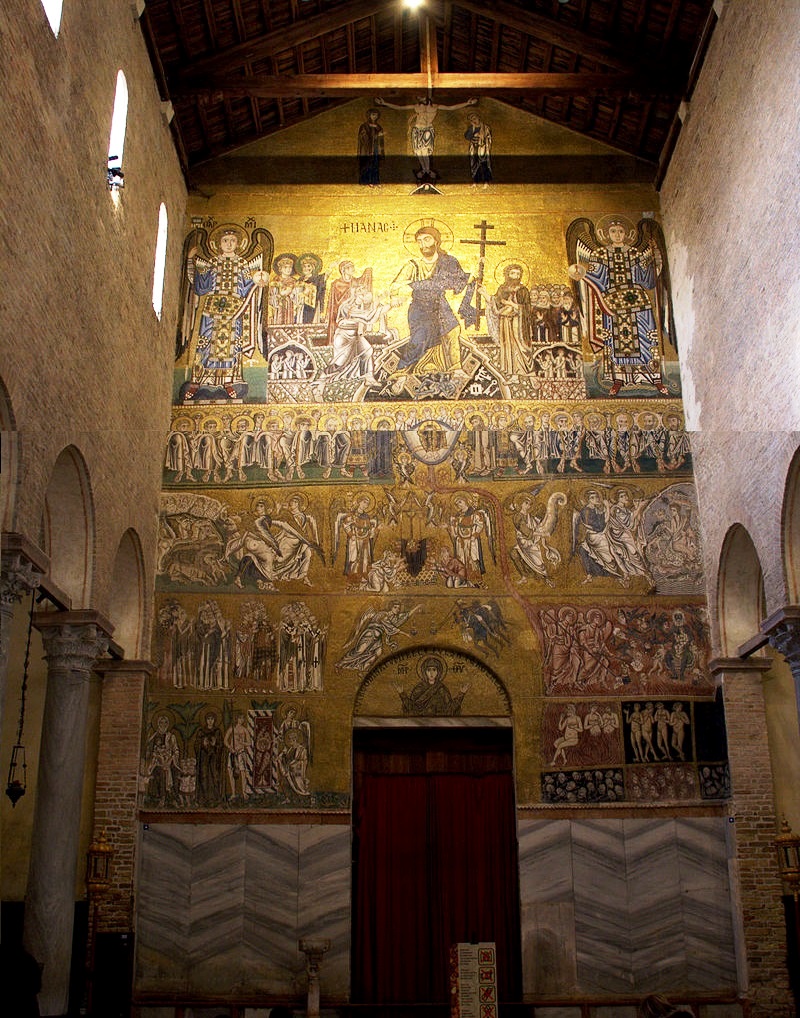 My favourite island is Burano, home to lace-makers. It's quiet after Venice and very colourful.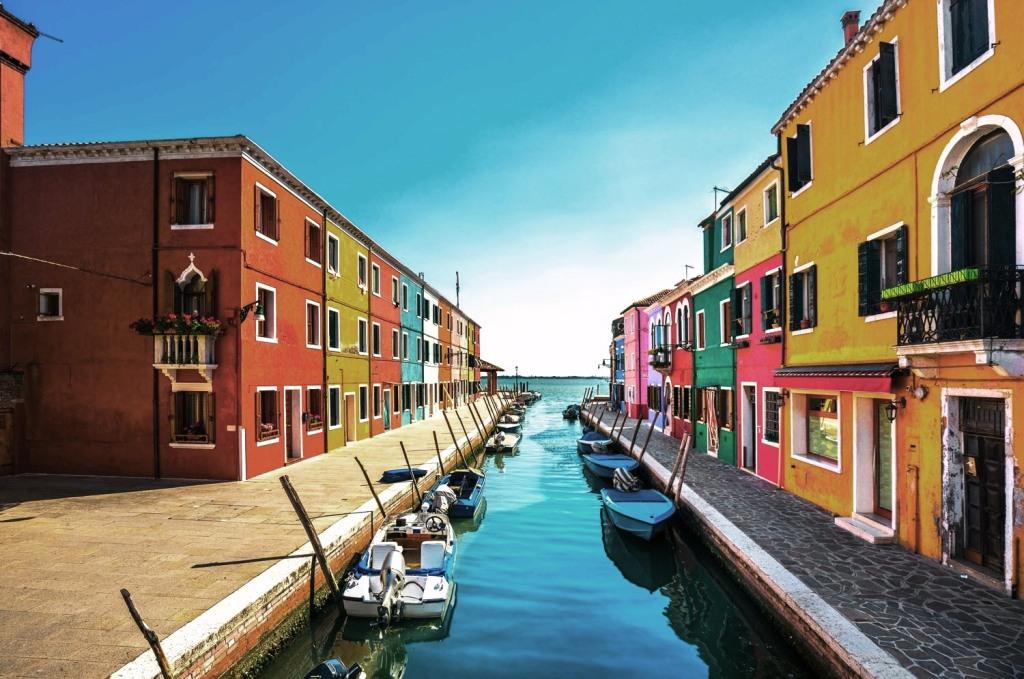 I recently watched a BBC foodie series called "Remarkable Places to Eat" in which French "maître d'hôtel" Fred Sirieix discovers special restaurants round the world in the company of culinary celebrities. He visits Venice with English chef Angela Hartnett, who appropriately is "Chef Patron" at the fine-dining "Murano" in London's Mayfair. She takes him to Burano to experience "the best plate of risotto you're going to eat in your life" at the family-run "Al Gatto Nero" - it's on my bucket-list. Here is the Burano excerpt (13 minutes) from the Venetian episode. Fred also goes fishing in the lagoon.



There is one island that I've never seen, also on the list for my next visit. Sant' Erasmo is the kitchen garden of Venice. Farmland. Not a "calle" in sight. Nothing like the main city although it's very close, a short vaporetto ride. I learnt about it from the novel "Earthly Remains" by Donna Leon, one of her Commissario Guido Brunetti series of detective stories. Many have recommended it on travel sites as a good place to stay, relaxing and rural after a day in the city's crowded intensity.