This isn't a recipe book. You can buy any number of those, find the recipes on-line. This is my take and comment on classic examples of distinctive Friulan food and drink.

Muset, brovada and polenta

This is country cooking. Food for the mountains in hard times before latter-day prosperity.

Muset is a sausage made from pork shin, snout and skin. It's fatty and salty. Hmmm ... not to everyone's taste. I have to declare myself a lover of parts of the beast that many throw away. My son Ben's birthday is a day after Burns' Night, so I've made haggis from scratch, getting the sheep's pluck from my local abbattoire. Nobody else seems to like "andouillette", the French coarse-grained sausage made with pork intestines or chitterlings. On a skiing trip to Avoriaz I was asked by my fellow diners to cover my dish with a napkin between mouthfuls. When visiting a pizza house in the Charente in France, my family told me to sit at a separate table to eat my andouillette pizza. It's the same with kidneys, liver, hearts and especially tripe: "Trippa alla Veneziana", strips cooked in a pan with butter, herbs and white wine; Polish "Flaki", a peppery tripe and vegetable soup; "Böhmische Kuttelflecksuppe", an Austrian/Bohemian thick tripe soup; Spanish "Callos", a stew. I've just heard about another delicacy (?) which I look forward to trying. It's "Biroldo", a pig offal (including tripe) blood sausage originating in Lucca, Tuscany. My informant Jason Orsi, proprietor and leading light of the very good Italian restaurant Toni's Kitchen opposite our house in Stroud, comes from Lucca. He says he'll get his father to bring one over on his next visit. Once again, not for the faint-hearted.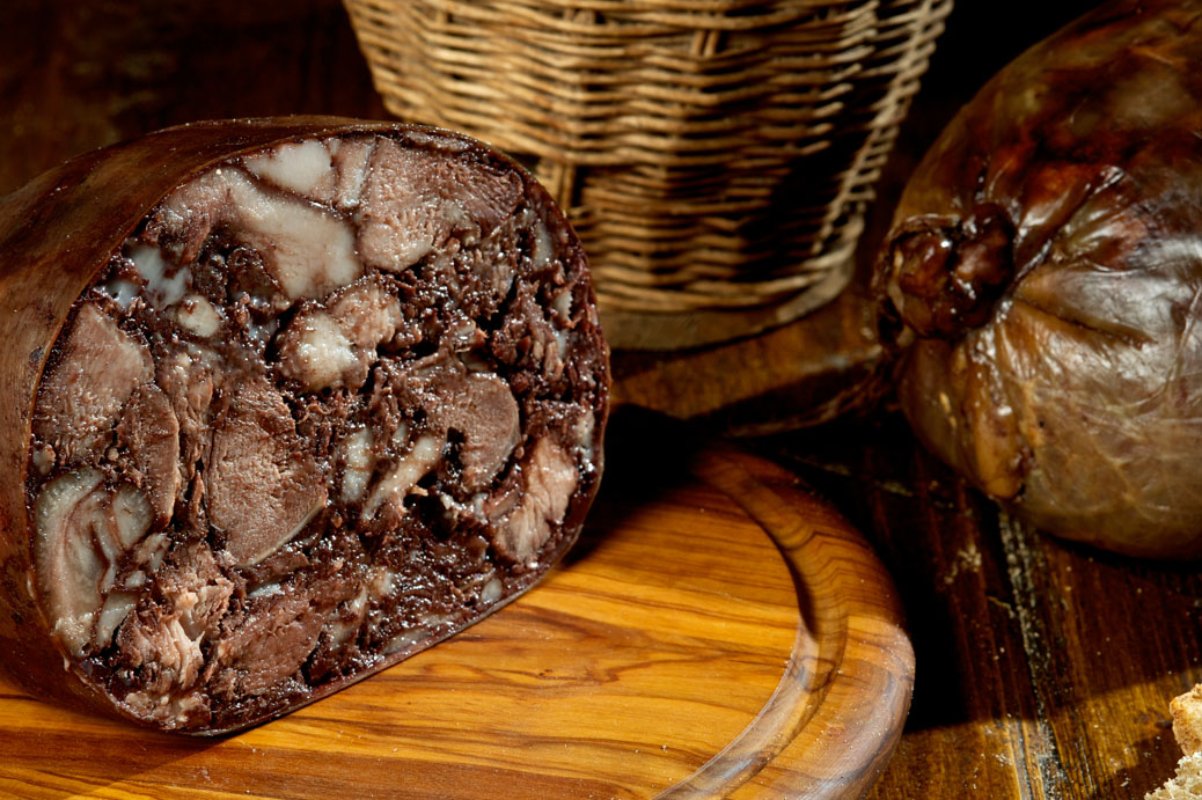 Enough of this digression. I really like muset. Not that I've eaten any in 41 years.

Brovada is made by cutting purple-collared turnips into small slices, fermenting them in the pressings of black grapes then pot-boiling them for a long time with oil, bay leaf and often a piece of pork rib or other fat pork cut. The most familiar equivalent is the German "sauerkraut". No surprise there given the Friulan attachment to the north.

Most people know about polenta, especially if they frequent the hip eateries of Shoreditch or Hoxton. It's made of boiled cornmeal, yellow maize, usually allowed to cool and solidify into a loaf that can be sliced then fried or grilled.

This dish doesn't look like fine dining. No prizes on Masterchef. That's not its origin nor its purpose. It's sustaining food, warming in winter, made from cheap and available ingredients.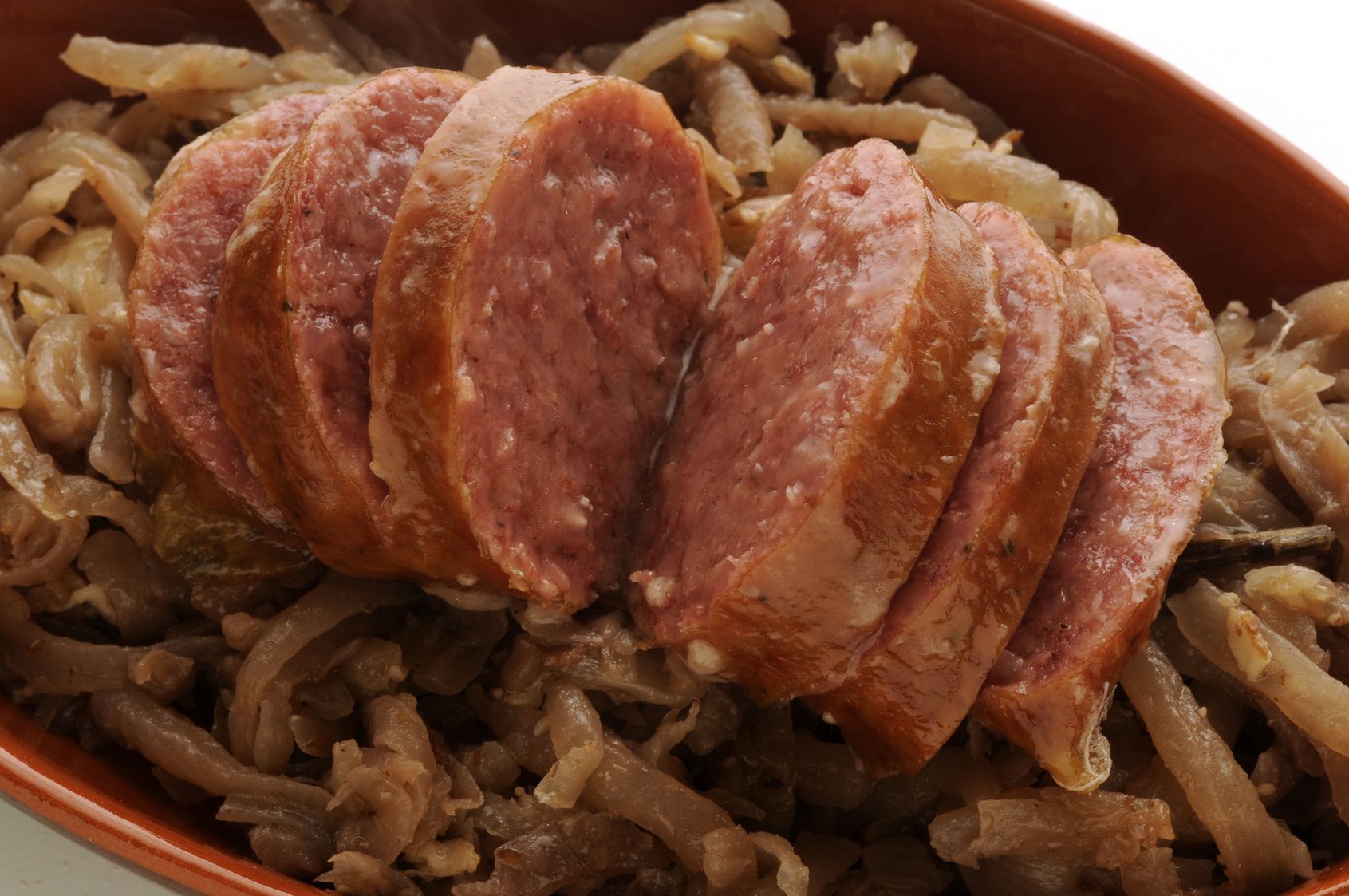 Prosciutto di San Daniele

The prince of hams. I like Parma ham and "jamón serrano" but this "prosciutto crudo" is royalty. The only thing that comes close for me is "lonzu", the cured Corsican pork loin.

It's been recognised by the Italian state with "Denominazione di Origine" since 1970 and by the European Union since 1996 with "Denominazione di Origine Protetta" (DOP). 31 companies produce it within the municipality. The process is rigorous:

Cooling and trimming of the thigh to reduce loss of moisture and give the traditional shape
After the first 24-48 hours, the thigh is covered with salt for the number of days equal to the kilograms of its weight
Pressing, to allow the salt to penetrate better and give the meat a better consistency
Resting in special rooms until the fourth month from the beginning of processing
Washing and drying
"Sugnatura", the application of a dough based on rice flour and fat on the portion not covered by the rind, to keep it soft and prevent it from drying out
Seasoning, which lasts until the end of the thirteenth month from the beginning of processing
That's enough of process. You need to eat some.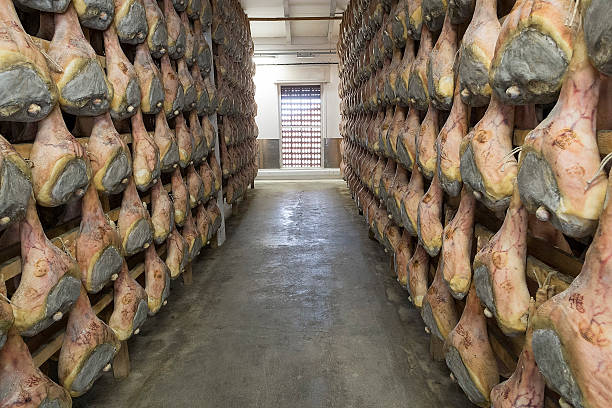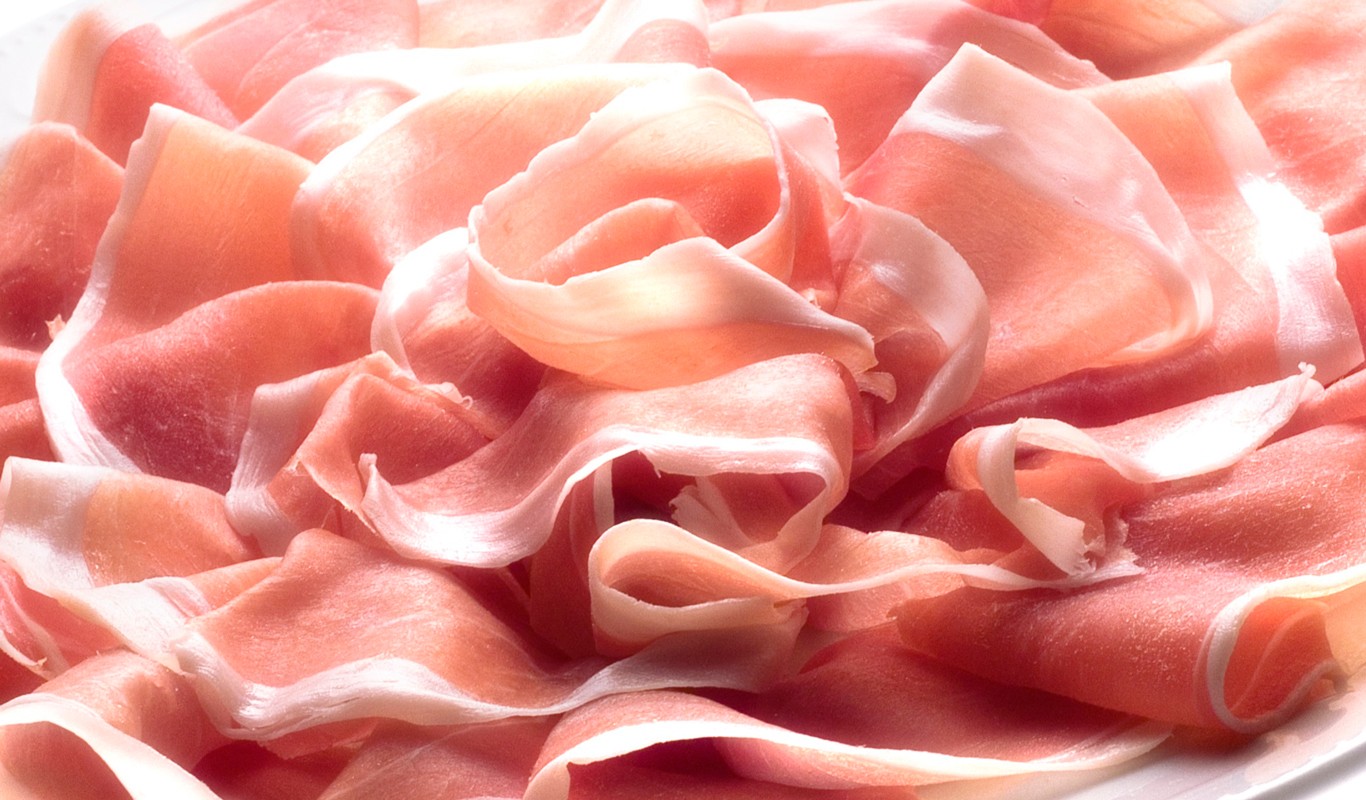 Gubana

If you find Panettone, the standard festive Italian cake, too dry and dull, this could be for you.

Gubana is a dessert of the Natisone valley (see the section "Return"). It's made with leavened sweet dough and filled with walnuts, raisins, pine nuts, sugar, grappa and grated lemon peel. If you want you can pour on more grappa when you eat it.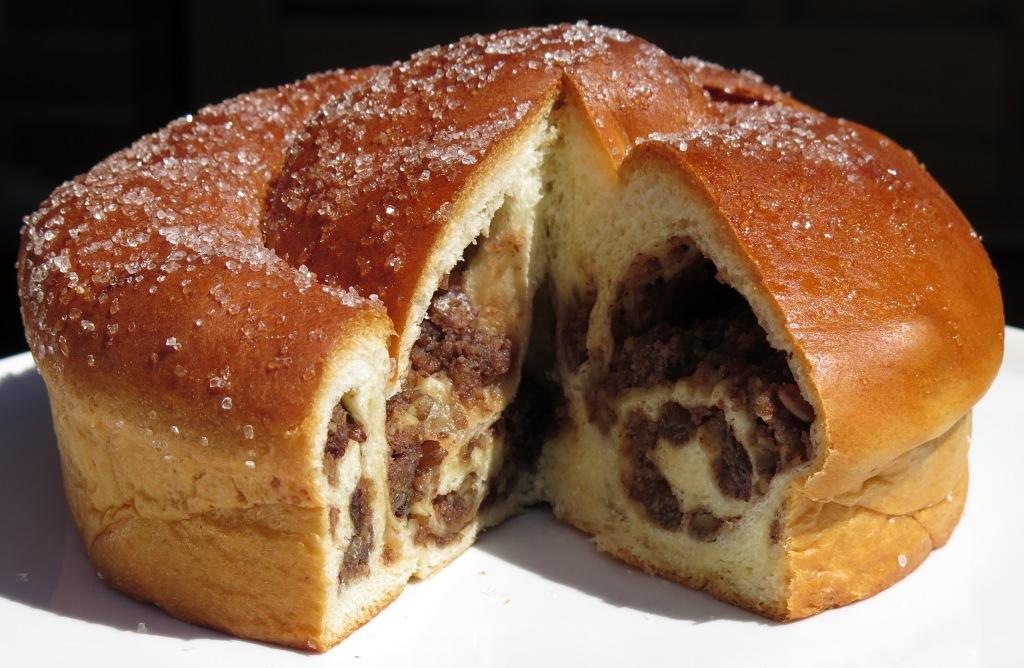 Caffè dell'Alpino

This is a significant invention of the Alpini, the crack mountain military corps, a drink to brace the troops against high-altitude winter cold. It's made by filling the bottom half of the coffee moka with grappa instead of water. I've only drunk it once, prepared by Federico Zanin of Talmassons. There is a serious risk of explosion from the grappa fumes catching fire. It tastes stunning, hits you like a stick. Would you believe that you can actually buy an Alpino moka? Yes, it's got a "Cappello Alpino" lid and the black feather.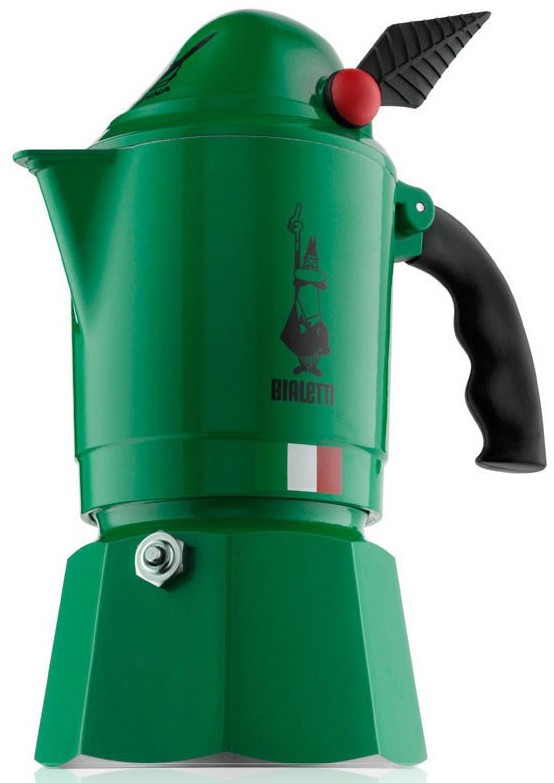 Wine

This is a big one. Where do I start? Wine in Italy, certainly in Friuli in 1975, was clearly much more central to the culture than in Britain, approached differently. It was treated with care, a part of everyday life, an "aperitivo" in the evening and an accompaniment to meals. There was alcoholism, Friulani were big drinkers; Carletto and Ermanno in Talmassons spearheaded an educational campaign on alcohol abuse having lost family members to drink. However, most people treated wine with a mixture of respect and passion. People even purchased it in a different way, in bulk "damigiane" from their favourite "tenuta", bottling a year's supply themselves when the moon was right and the weather was clear. It was rare to see the kind of binge-drinking witnessed in British city centres on Saturday evenings. Wine was not just a way to get drunk. In Stroud today, the local lollipop-lady goes out on weekend nights with fellow churchgoers until 4am to help young drinkers in distress. She carries flip-flops to give to girls who can no longer manage their high heels. Not an Italian trend, I suspect.

So wine was special and Friuli produced – produces – some great varieties. It's grown all over the region, but the most respected area is the "Colli Orientali del Friuli". That eastern promise again that I've mentioned in "Gowan" and "Return". Here's a map, not as clear as I'd like and will be replaced, but it gives an idea. You can blow the page up to see better.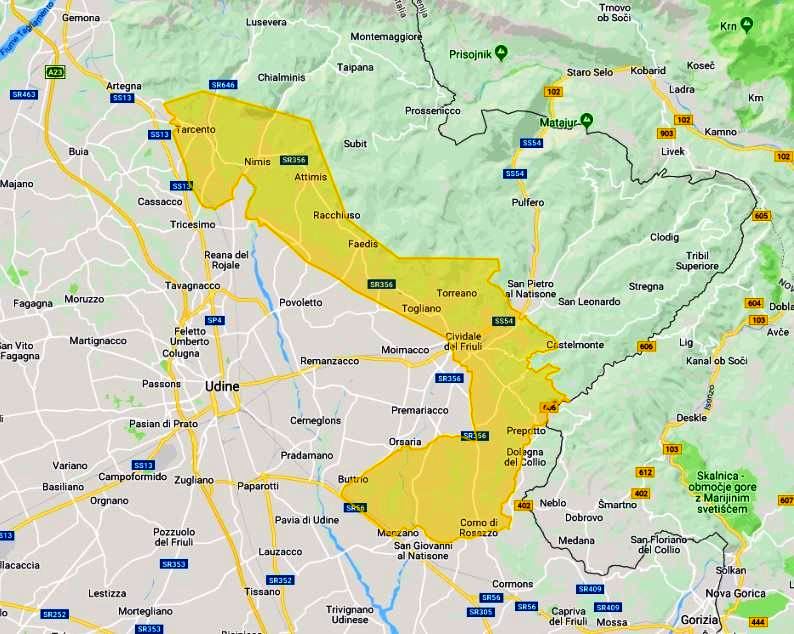 The yellow-shaded "Colli" are to the east of Udine right up to the Slovenian border. Place names that bring back happy memories of visits: Nimis, Faedis, Cividale (lots written elsewhere in this memoir), Prepotto, Dolegna del Collio, Corno di Rosazzo.

A beautiful landscape, lush, tended, prosperous. This view is at the southern end of the zone.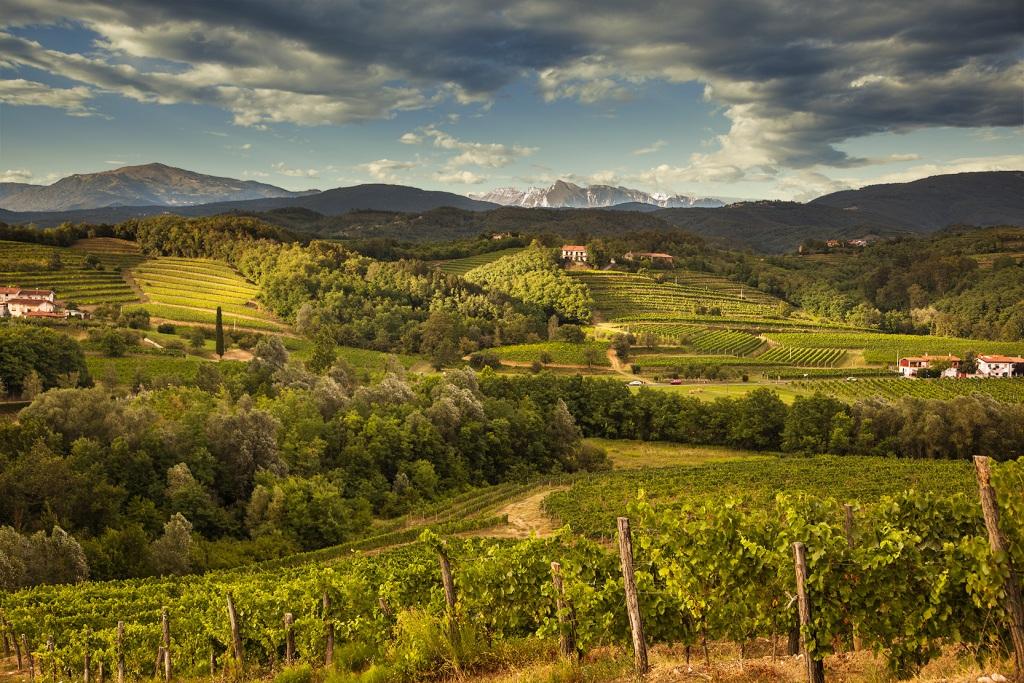 The wine I chose most often was Merlot. It's my partner Sarah's favourite red. Whenever she orders a glass, I feel a little jolt of Friulan pleasure.

On our return to England in 1979, Gowan asked Sue and me if we'd like to import wine from him; it was his new business. We set up the imaginatively-named Vinobuono Wine Club which he supplied, and we enrolled our friends. In two years we didn't make any money - but we never bought any wine in that period. What's more, it was all excellent.